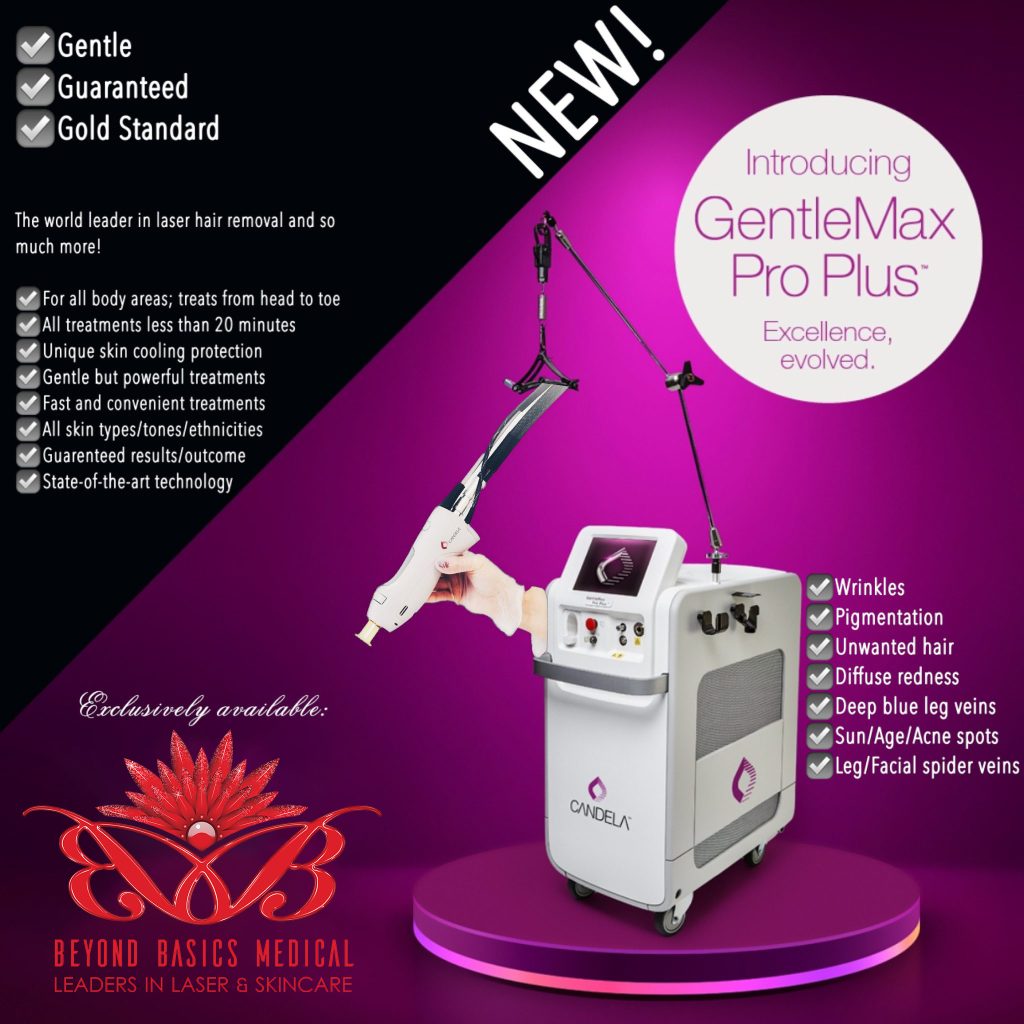 NEW Gentle Max Pro Plus (GMPP)- The World Leader In Laser! Highest level of excellence treating hair removal, wrinkles, vascular lesions and pigmentation and certified in being:
Gentle
Gold-standard
Guaranteed
Newest, enjoyable, safest, most advanced and precise results in the world, provided to you by Beyond Basics Medical: Leaders In Laser & Skincare of the Cayman Islands!
Why GentleMax Pro Plus at Beyond Basics Medical is Beyond the BEST Technology When It Comes to Laser!
GentleMax Pro Plus Laser – "The BEST" has become relative in this age of false-marketing and over-hyping. When it comes to lasers, some people think of speed as a factor for being the best, some think of safety, some think of comfort, and much more.
How about combining all those factors into one glorious creation? This perfection exists as the GentleMax Pro Plus (GMPP)! 
Here are 10 facts backing this bold claim:
1. Larger Spot Size
Laser hair removal becomes a fun, efficient and super-fast experience as the larger spot size targets multiple hair follicles simultaneously.
2. Suitable for all hair and skin types
GMPP uses two different wavelengths of light, Alexandrite and ND:YAG. What this means is that Beyond Basics Medical has the capacity to treat different types of hair and skin tones ranging from very fair to very dark. Beyond Basics Medical values inclusion, you'll never feel left out and we have the most experience performing on all skin types/tones/ethnicities. 
3. Virtually painless
This is the best part! Literally feels like cooling spicy kiss to the skin that's doesn't last more than half of a second per each pulse. Depending on the treatment, some of our Beyond Basics Medical clients feel zero!  Furthermore, this discomfort is quickly taken care of by GMPP's DCD cooling.
Cooling gel? We don't not need it! The patented Dynamic Cooling Devise (DCD) technology basically protects the upper layers of your skin with cooling bursts of cryogen.
How this work is the cryogen solution immediately cools your topmost skin later, and in the span of a couple of milliseconds, the laser targets the same spot.
This hot and cold feeling all happens in less than a second; therefore, most patients are quite comfortable during the session. Plus, it is actually quite soothing.
4. Safe for all ages
And we mean all ages – even newborns! Because of the advanced technology of our dual wavelengths and DCD, our machine is safe, tried and tested on all ages, including newborns. All that is required for a minor to undergo laser treatment is parental/guardian consent.
5. It is Fast
GMPP Laser is the fastest, best and most affordable way to get rid of unwanted hair, wrinkles, vascular lesions and pigmentation. It may require multiple sessions but most of the sessions last for a few minutes only. For smaller body areas, like upper lips, eyebrows, and underarms, this procedure is just a few seconds!
6. Minimal sessions
GMPP Laser results differ from person to person and area to area. However, we take relatively shorter time per session and a smaller number of sessions to achieve certain treatments. We live for result-oriented treatments!
What is important to note is that even in a small area, it is not possible to target all hair follicles in one session. In fact, to truly be effective, it takes 8 to 10 sessions for a single area (depending on what concern we are treating, 3 may only be needed). 
However, you can see a difference with each session. The number of sessions is based on your skin tone, texture, area size and the number of areas.
7. Precise
Our technology, along with our experienced Beyond Basics Licensed Laser Partitioners, are wonderfully precise. That is why it is the most affordable solution and safest decision one can make for a long-term transformation.
8. Your in the best expert hands
The Beyond Basics Medical team of Laser Aesthetics are all registered and proud members with the Council of Professions Allied with Medicine (CPAM) practicing in a Licensed Medical Facility with an additional CIDESCO license. Our Experts include Doctors (MD, Surgeon/Physician) and Medical Certified Laser Operators (CLO/A). Safety rules and policies are frequently regulated.
9. Your wallet will love you
Because it's a permanent solution, it's also cost-effective. Over the course of your lifetime, you can save hundreds or even thousands of dollars.
10. Plus, it is the GREEN solution
Using GMPP will allow you to reduce your carbon footprint because you don't contribute to plastic waste from razors or chemical waste from hair removal creams or plastic skincare bottles for brown spots/wrinkles or needles/plastic syringes for veins etc…
Gentle Max Pro Plus (GMPP) requires a complimentary consultation as per policy, prices vary from concern to concern (a price range cannot be given) and can only be accurately provided in a consultation, please click the link below and scroll down to Message Us to see if you are a candidate and to get started: